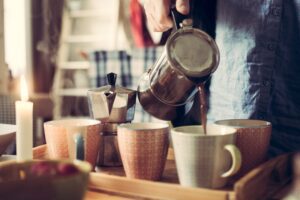 If you are anything like us and love coffee, Fall has a special place in your heart! We can get a Pumpkin Spice Latte, Gingerbread Latte, or even a Carmel Brulee Latte!
Being intentional with your coffee habit can help AMC empower more women and men. By choosing to make your beverage at home once a week, you can save $20 a month.
Join us in the month of November for #latteforlife and donate your extra coffee money to your local pregnancy center. Our goal is for 1,000 cups of coffee to be donated, which puts our fundraising goal at $5,000. Post a picture of you with your home made beverage and use the hashtag #latteforlife and tag us @alternativesmc. You can get a picture by yourself, with your significant other, or even with your Bible study!